Did you stop by booth # 832 and check out Blue Pearl Software's awesome new and improved RTL debugging environment version 9.1? If not, hopefully you took a spin down Central Park on our big screen, won an Apple watch, or at least picked up our tchotchke for your little ones at home.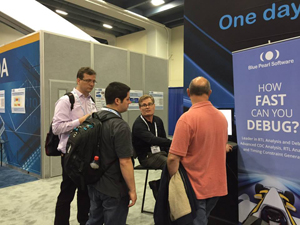 As for me, attending Design Automation Conference 2015 (52nd DAC) was a nostalgic but exciting trip down the memory lane. Can you name the company that boasted the largest, over 10,000 installed base of EDA users in 1988? It was Personal CAD Systems (P-CAD), where my EDA career began, and where I first worked with Blue Pearl Software's fearless CEO, Ellis Smith. Yeah, I was 12 at the time (ha, ha), and I answered a newspaper ad for a sales support manager position (for real).
When P-CAD was acquired by CADAM, an IBM subsidiary in 1990, my job shifted from sales supportto marketing following the rebranding of CADAM that became ALTIUM, an IBM Co. in the spring of 1993. Somewhere around 1995 I think, IBM signed an exclusive agreement to have ALTIUM market and distribute its high end EDA tools that were previously proprietary and highly coveted by the commercial EDA community. I was the ALTIUM marketing manager who was lucky enough to launch the announcement at DAC in Dallas. It made DAC' headline news, and boy, was the party fun at the Dallas World Aquarium!
When I reconnected with Ellis and Blue Pearl in May, I couldn't wait to see the growth and changes that have taken place since I left EDA in the mid-90s. Overall, DAC seems to have gotten smaller, although still lively, because the industry has consolidated so much. Many exhibitors including Blue Pearl continued to host our own private demo booths, which is not typical of most shows nowadays. I was just at the RSA Conference, a security show in April, for example. There, you only saw cool tools, lots of tchotchkes, and enough free food to justify skipping dinner and going straight to the bars.
Enough looking back, I'm amazed to see so many EDA colleagues who are still in the industry, including the late, long time industry analyst Gary Smith whose loss will be missed. No more mandatory attendance at DAC's kick off reception where Gary shares his annual EDA predictions.No more listening to Gary playing his bass to some good old blues.
I'm grateful to have met lots of new faces that stopped by our booth. Big thank you to the VIPs who booked private demos. Hopefully, the time you got to spend with our VP of R&D Scott Bloom provided insights and food for thought.Big congrats to our three Apple Watch winners: Johnny Kwei of Broadcom, Richard Cheung of Oracle, and Duncan Halstead of Western Digital!.
Thanks for reading my first blog post since coming back to EDA. I'm looking forward to contributing to Blue Pearl Software's growth by sharing relevant info that will help you accelerate your RTL design and debug. So, how about showing a little love and connect with us on LinkedIn, Facebook and Twitter?